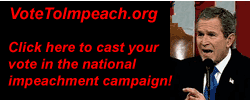 Dear VoteToImpeach Member,

Have you seen the new and improved VoteToImpeach.org web site?

Because of the commitment and self-sacrificing efforts of a large number of activists and the generous support from so many VoteToImpeach.org members we are thrilled to announce a major upgrade of the VoteToImpeach web site. The organizing work of the impeachment movement is rapidly expanding and the new features now included in the web site will help generate many new votes calling for the impeachment of George W. Bush and Co. and will facilitate the communication reach of the movement.

You can invite a friend to vote in the Each One~Reach One campaign (using an improved interface), view a pdf of the latest impeachment ad, access downloadable impeachment petitions to collect signatures, send letters to the editor to media outlets throughout the country, read the draft Articles of Impeachment and Notes for the Consideration of Impeachment by Ramsey Clark, sign up easily for e-updates, and learn how to easily add a VoteToImpeach.org graphic link button to your favorite web site.Be sure to tell a friend to check out the new and improved VoteToImpeach.org web site. And remind them that their vote can make a difference.

Nothing is so powerful as a person to person movement. When people hear something positive from a friend, co-worker or family member it engages their interest. That's why we are succeeding.

Think for a minute about how quickly people have responded to the impeachment effort. When we got started a few months ago, the impeachment of George W. Bush seemed to many as a high-minded but possibly na´ve undertaking. The Administration seemed like it was getting a free ride from the media in spite of its actions which were openly shredding the U.S. Constitution, the U.N. Charter and decades of international law. Today, impeachment is being discussed in editorial pages in newspapers around the country. Political candidates of both parties are being asked about impeachment. Suddenly, impeachment has become "acceptable" in the political dialogue of this country. In the last weeks, as more people recognize that George W. Bush lied to the people and to Congress about weapons of mass destruction and the rationale for the war against Iraq, the voices in support of impeachment are getting louder and more numerous.

Organizing a broad, grassroots movement is not only the fundamental expression of genuine democracy in action -- it is also the most powerful tool throughout history that has helped make "the people" the generator of social change and progress.

Check out the new site, and we look forward to continuing to work together to support and advance the impeachment campaign. All of us working together can make this happen.



All of us at VoteToImpeach.org

- - -
This e-mail has been sent to persons who have previously communicated with, or voted at, VoteToImpeach.org. If you have been forwarded this e-mail by a friend and wish to receive future e-mails from VoteToImpeach.org, simply Click here to Subscribe. If you have received this in error, or wish to not receive future e-communication from us, please Click here to Unsubscribe.
Elson E. Boles
Assistant Professor
Sociology
Saginaw Valley State University